Trophy "W-500-C" awarded for work more than in 500 Contests.
If you took part in five hundred contests by personal callsigns, present and old, SWL, as a part of collective radio station, You can make the table of application and to apply for this Trophy.
It is your Activity in Contests.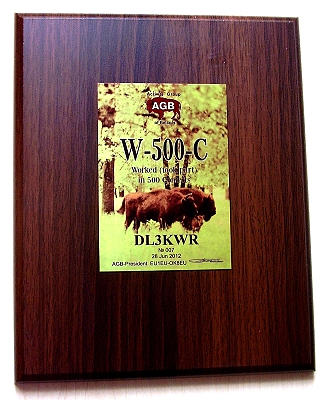 A series of trophies "W-100-C" ... "W-1000-C" awarded for total of competitions in which you took part (the personal call sign, as SWL or from club radio station).
Trophies stand out for, accordingly, 100, 250, 500, 750 è 1000 Contests.
The sizes of AGB-Trophy the following:
for "C-300-C" - 10cm x 15cm,
"C-500-C" - 15cm x 20cm,
"C-750-C" - 20cm x 25cm,
"C-1000-C" - 25cm x 30cm
and for "C-1500-C" - 30cm x 38cm.
Trophy "W-500-C" - for 500 contests, the desk is: 20cm x 25cm
Trophies presented here are made of the special board having appearance of expensive wood (the basis is delivered many years from Germany) and has the thin metal plate with golden layer and original picture (it is made in Prague, the Czech Republic) that Trophy very much pretends attractive and presentable.